Marine Spatial Planning
MGEL has been supporting regional ocean planning efforts on the Northeast and Mid-Atlantic regions of the US, leading the Marine-life Data and Analysis Team (MDAT) which includes researchers from NOAA Northeast Fisheries Science Center (NEFSC), NOAA NCCOS Biogeography group, Loyola University, and The Nature Conservancy. This effort brings together data from the MGEL cetacean models, NOAA NEFSC fish trawl surveys, and NOAA Biogeography avian models. These data are further summarized into datasets representing abundance, biodiversity, and species richness for groups of species. All of these datasets are then hosted by MGEL for use by several regional and national data portals – the Northeast Ocean Data Portal, the Mid-Atlantic Ocean Data Portal and the US Marine Cadastre. For more information see the MGEL MDAT website.
---
Marine mammal modeling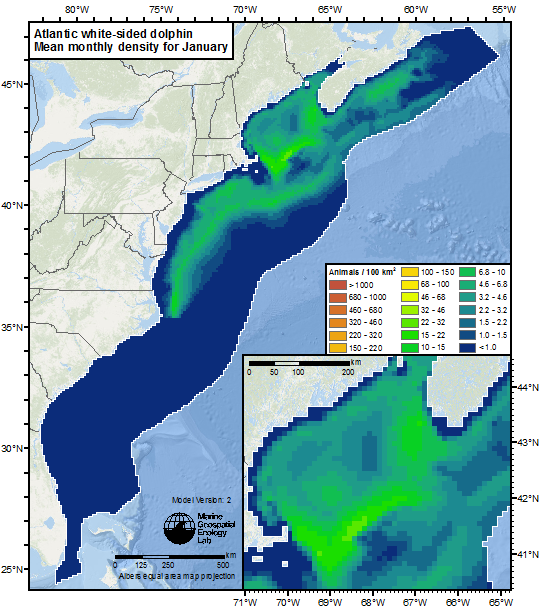 MGEL has been developing and delivering marine mammal habitat-based density modeling for an expanding list of regions: The US Atlantic and Gulf of Mexico, US Navy Atlantic Fleet Area, the Arctic and Mediterranean.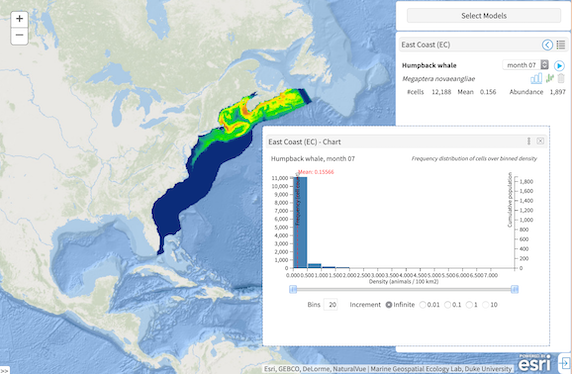 ---
High Seas
Our lab is involved in marine conservation issues in the High Seas and Areas Beyond National Jurisdiction (ABNJ). The MiCO project is synthesizing migratory species data, and the long-running OBIS-SEAMAP data repository and web application aggregates protected species observations. We've provided data ( with some derived using our MGET spatial tools) and technical support for the Ecologically and Biologically Significant Marine Areas (EBSA) initiative of the Convention of Biological Diversity. Analysis in partnership with Global Fishing Watch explores fisheries impacts. Our PhD students are active with Duke University's involvement in both science and policy engagements in the arena.
---
Ongoing and Past Projects
OBIS-SEAMAP (seamap.env.duke.edu) is a spatially and temporally interactive online database for marine protected species, collecting data from ship/aerial surveys and satellite telemetry as well as acoustic monitoring and PhotoID around the globe. This 10-year and on-going service is made possible by contributions from data providers all over the world. As of 2011, the OBIS-SEAMAP database holds… Continue Reading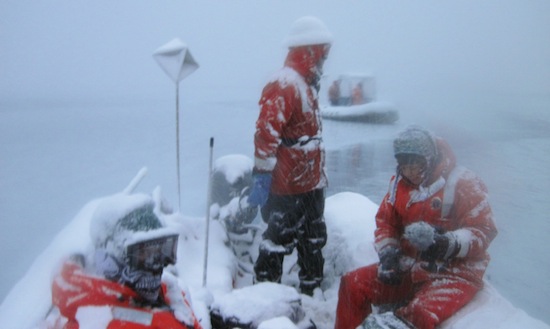 This research uses a combination of state-of-the-art technology and a multidisciplinary approach to test specific hypotheses regarding interactions among the environment, krill, and Megaptera novaeangliae (humpback whale). Humpback whales are a major predator of Antarctic krill, but there is still little understanding about how these whales utilize this resources.… Read More
The Migratory Connectivity in the Ocean (MiCO) consortium is a group of over 50 organizations that seeks to fill a major knowledge gap regarding global migratory routes and connected areas for marine mammal, seabird, sea turtle and fish species. Due to their wide-ranging behaviors, migratory species experience a variety of anthropogenic pressures. Combined with conservation… Read More
Spatial and Temporal Patterns of Bird and Wildlife Use and Fishing Activity in Eastern Pamlico Sound and the Coastal Ocean in Northern Raleigh Bay and Eastern Onslow Bay Funded by Duke Energy In collaboration with Charles H. Peterson, Stephen R. Fegley, Harvey Seim (UNC-CH Marine Sciences), and Chris Taylor (NOAA) In June of 2009, the… Read More
A New Map of Ocean Life The Census of Marine Life was a global network of researchers in more than 80 nations engaged in a 10-year scientific initiative to assess and explain the diversity, distribution, and abundance of life in the oceans. The world's first comprehensive census of the past, present, and future of… Read More
Spatio-Temporal Analyses of Bycatch in the New England Groundfish Fishery New England's transition to catch share management, via sectors, has created an incentive for fishermen to reduce interactions with non-target species, which they previously discarded under days-at-sea management. For the first time, fishermen are not allowed to discard marketable fish, but instead must count… Read More
Marine Geospatial Ecology Tools (MGET) is a free, open-source geoprocessing toolbox that can help you solve a wide variety of marine research, conservation, and spatial planning problems. MGET can perform tasks such as: Downloading and converting oceanographic data into GIS formats Identifying ecologically-relevant features in remote sensing imagery Fitting, evaluating, and mapping statistical models of… Read More
Tool Development: Studies and Valuations of Ecosystem Services Funded by The Ocean Foundation/MESP In collaboration with Linwood Pendelton (NOAA, Duke) Mapping and data explorer tool for an effort to aggregate studies and valuations of ecosystem services in marine and wetland locations.… Read More
SWOT — the State of the World's Sea Turtles — is a partnership led by the Marine Species Flagship Program at the Oceanic Society and the IUCN Marine Turtle Specialist Group, and supported by the Marine Geospatial Ecology Lab (MGEL) at Duke University. Since 2008, MGEL has led the collection and management of sea turtle… Continue Reading
MGEL and University of Exeter, UK are undertaking a collaborative project to support the process of defining marine turtle high use areas.
There are many ways to leverage existing and past project results/data, especially when contributing to initiatives that incorporate large amounts of data from various sources. Researchers can rely on data management applications and services to archive their telemetry tracking data, create public-facing tracking web pages, and have a repository where project managers could be contacted for data sharing and collaboration. Continue Reading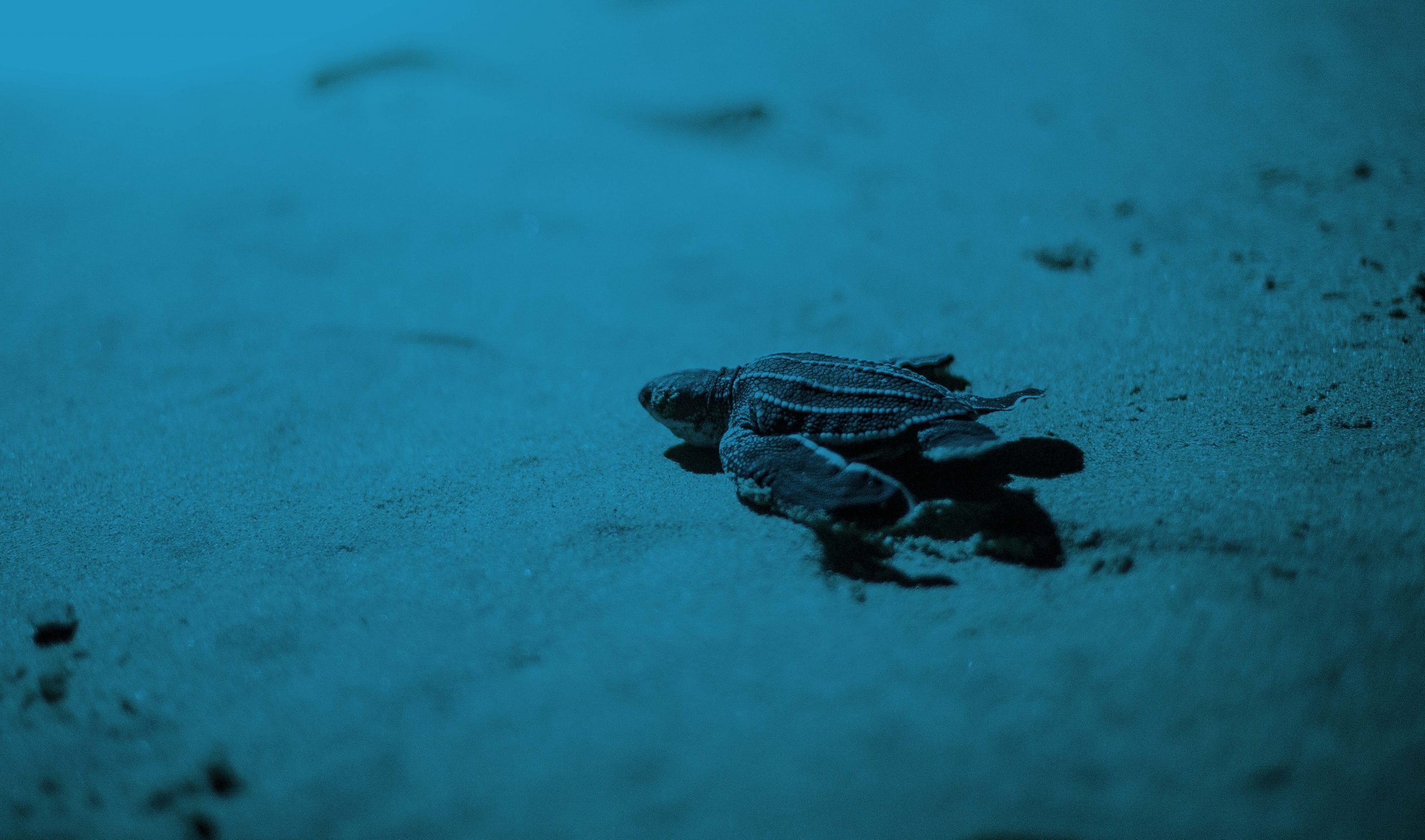 Oceanic habitat use by Mexican Leatherback Sea Turtles Funded by Lenfest Foundation In collaboration with Dr. Scott Eckert (WIDECAST) and Dr. Steven Bograd (National Marine Fisheries Service Environmental Research Division) HI3SV5GQ In the late 1970's and early 1980's the Pacific coast of Mexico supported the world's largest nesting colony of the Critically Endangered leatherback sea… Read More
Expansion of OBIS-SEAMAP for Passive Acoustic Monitoring Data In collaboration with Melissa Soldevilla (SEFSC), J Hildebrand (Scripps), C Clark (Cornell), S Van Parijs (NEFSC) To deal with diverse methods for the detection, classification and localization of passive acoustic monitoring (PAM) data, OBIS-SEAMAP continues improving data management, metadata standards, and mapping and visualization tools for PAM… Read More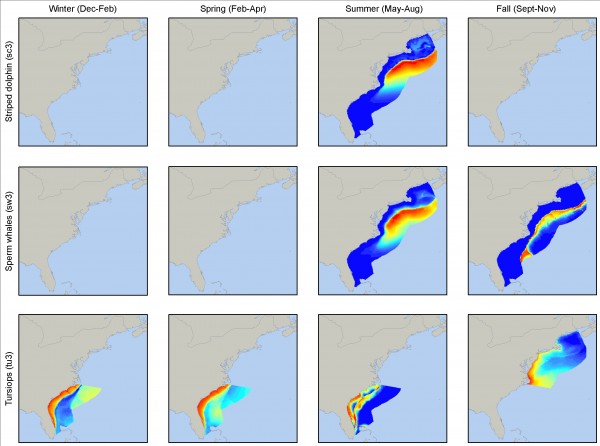 As part of the NOAA Cetacean Density and Distribution Mapping Working Group, MGEL is developing a cetacean data gap analysis to spatially and temporally determine where data needed to build distribution models are lacking. This analysis will be used to build new cetacean density models for the US East Coast and Gulf of Mexico and… Read More
Over-exploitation of the world's fish resources has caused serious decline in fish populations, and there is widespread concern that the world oceans will be unable to supply fish products for future generations. Given the importance of marine fisheries for food security throughout the world, this poses a serious threat for coming generations, and we must… Read More
The Bureau of Ocean Energy Management (BOEM), through its Marine Minerals Program (MMP), authorizes the use of offshore continental shelf (OCS) sand resources in shore protection and coastal restoration projects. One of the major environmental issues with these projects is the potential for dredging entrainment and mortality of federally protected sea turtles. In accordance with… Read More
Evaluating User Needs for Models and Decision Tools to Predict the Impacts of Climate Change on the Marine Environment Download a PDF of the slides. (12MB) Or replay the presentation on the OpenChannels.org Marine Management Forum site. This was a discussion via the Ecosystem-Based Management Tools Network webinar series on October 30, 2013. A changing… Read More
---
Sponsors and Partners in all these areas include: