This summer the Marine Geospatial Ecology Lab is lucky enough to have seven bright interns to help conduct research on topics from sea level rise, to marine mammal modeling to the high seas!
Greg Anrig, Nora Ives, Chelsea Tuohy, Carden Barkley, and Julie Cacace are all rising second year Coastal Environmental Management (CEM) graduate students at Duke University focusing on emerging and pressing challenges that affect our ocean. In addition to the graduate student summer interns, we also have two undergraduates working with the lab this summer: Nathan Yu and Nick Kaney! This summer their research will explore four important topics: the high seas, marine mammal distribution, fish spawning and nursery areas, and sea level rise. To find out more about their summer research, read their excerpts below:
---
Sea Level Rise
Sea level rise is a prominent threat to many coastal states in the United States. Due to global warming, melting ice, and thermal expansion, the world's average sea levels are predicted to increase by as much as 1.5 meters by 2100. Many coastal states are at a greater vulnerability of sea level rise due to their economic dependence on the coast, and sea level rise could place additional stress on infrastructure, habitats, tourism, and water supplied. To improve resiliency, sea level rise modeling efforts are aiding coastal city planning. This summer, Julie will be exploring current sea level rise and flood inundation models to aid coastal cities in disaster planning. Her research is focused on creating a fine scale model that predicts inundation in the near future to assess sea level rise risks and flooding. The work Julie conducts this summer will be the foundation for her master's project, which will continue throughout the 2021-2022 academic year.
---
Marine Mammal Modeling
Marine mammals are protected worldwide but vulnerable to incidental harm from an expanding array of human activities at sea. Managing potential hazards to these highly-mobile populations increasingly requires a detailed understanding of their seasonal distributions and habitats. MGEL has been developing and delivering marine mammal habitat-based density modeling for: The US Atlantic and Gulf of Mexico EEZs, US Navy Atlantic Fleet Area, the Arctic, and the Mediterranean Sea. Throughout this summer, undergraduate students Nick Kaney and Nathan Yu will be exploring passive acoustic data recordings to aid North Atlantic Right Whale spatial modeling efforts in Cape Cod Bay, Massachusetts. The North Atlantic Right Whale is one of the world's most endangered large whale species, with less than 400 individuals remaining. Supervised by Dr. Robert Schick and Dr. Tina Yack, the interns will collect data on spatial-temporal occurrence of North Atlantic right whales and compare these distributions with anthropogenic and environmental data. Nick and Nathan will continue this work throughout the academic year.
---
High Seas
Marine areas beyond national jurisdiction (ABNJ), commonly called the high seas, are those areas of the ocean for which no one nation has sole responsibility for management. Nearly two-thirds of the world's oceans lie in ABNJ, and the increasing exploitation of fish on the high seas has caused concern among scientists, economists, lawyers, governments, NGOs, and the public. Though negotiations are currently underway to protect ABNJ under UNCLOS, only 1% of the high seas are fully protected. Regional Fisheries Management Organizations (RFMOs) exist in the majority of the high seas areas that have major deep-sea fisheries. They are tasked with collecting fisheries statistics, assessing resources, making management decisions, monitoring activities, and they play a pivotal role in facilitating intergovernmental cooperation in fisheries management. However, management has proven to be a challenge with current systems and deficient data sources. Carden and Chelsea will be working on a performance review of the 17 existing RFMOs to evaluate overall effectiveness of high seas governance. They will focus on 10 key conservation and management criteria to assess RFMO performance. The work Carden and Chelsea conduct this summer will be the foundation for their master's project, which will continue throughout the 2021-2022 academic year and support expansions of existing partnerships between Duke faculty and Nicholas Institute staff as it regards to High Seas @ Duke and Oceans @ Duke.
---
Spawning, Pupping, and Nursery Areas for Marine Species Impacted by International Fisheries: A Miniature Literature Review
Greg Anrig and Nora Ives, both second year coastal environmental management graduate students, will be conducting a literature review that provides key information on the known locations, ecological status, and management approaches of spawning and nursery areas for a set of fish species on the high seas. Literature reviews are important because they provide a critical review of the field of study, highlight evidence gaps, and provide guidance for future research. The literature review will assist in identifying high seas fisheries and their impacts on fish, rays, and sharks. It will help to determine key habitats for these species, existing fisheries management, and identify critical data gaps to guide researchers. As part of her Master's Project, Nora will be expanding on the literature review to include overlap between key nursery areas and existing Marine Protected Areas to support and improve conservation for threatened species. Greg is hoping to expand upon his knowledge of critical spawning and nursery grounds for threaten marine species and conduct a comparative analysis of management measures for these critical habitats to further fisheries management strategies. Greg and Nora are working closely with staff researchers Connie Kot and Sarah DeLand and will continue this work throughout the upcoming academic year.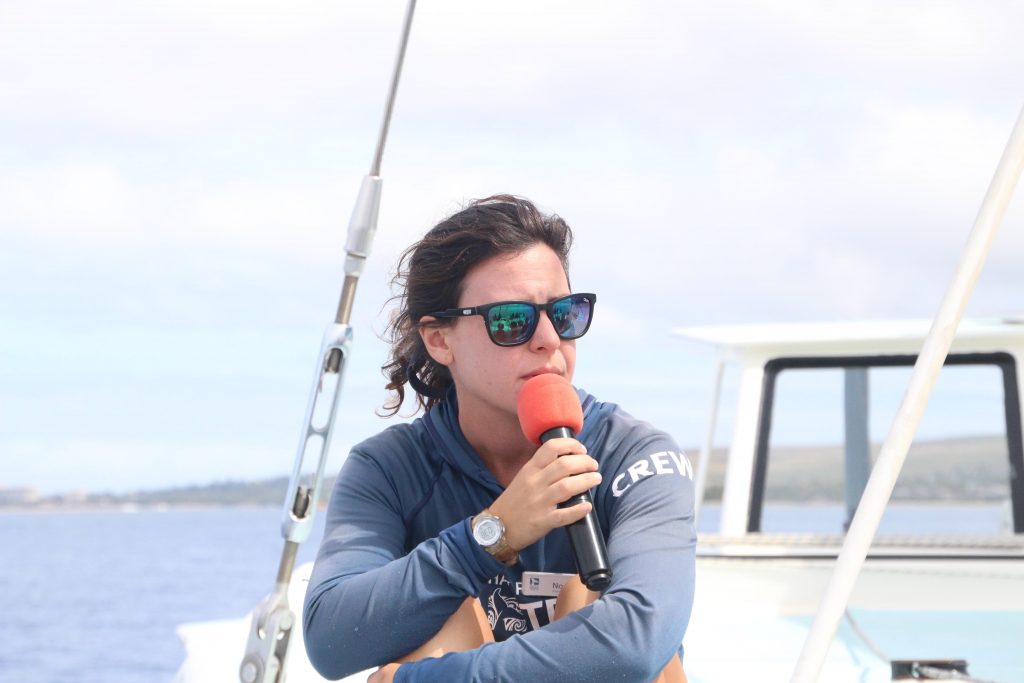 We have an exciting summer ahead for MGEL! Check back at the end of the summer for an update on where their research has led them.